Five Reasons You'll Love Your New Toyota Tacoma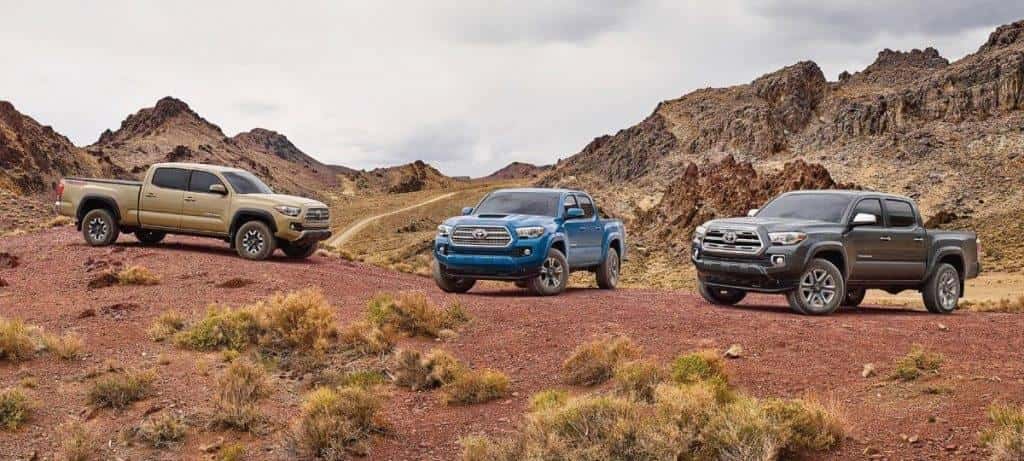 Five Reasons You'll Love Your New Toyota Tacoma
You're a truck person, but you're aren't just going to settle for the typical steel box that everyone else is driving. Other trucks on the road today look uninspired and, though they may perform well, they don't have class and charisma. But the new Toyota Tacoma — well, let's just say attitude isn't lacking here.
The Toyota Tacoma was completely redesigned for the 2016 model year. It's simply one stunning beast. There are so many reasons why you might want the class leader in midsize trucks. Here are five reasons you'll want to find yourself in the driver's seat of a new Tacoma.
Aggressive looks
When you drive the new Tacoma, all eyes are on you. From the moment the piercing headlights enter the view to the second when the stylish tailgate fades from sight, your truck will be the center of attention. A sexy, sleek profile with clean lines and sharp angles intersect just right captivates your audience. And you're in the driver's seat taking it all in.
Outstanding ability
The 2016 Tacoma is second to none. With available four-wheel drive and an amazing 9.4 inches of ground clearance, the Tacoma can get you anywhere you want to go — literally. It's just as comfortable in the backcountry blazing new trails as it is transporting a soccer team to the field in town.
Power to spare
Whether you choose the rear-wheel drive 2.7L 4-cylinder model or the 4WD 3.5L 6-cylinder, you'll never be wanting for power. The 2016 Toyota Tacoma has the guts to push you through the toughest terrain or efficiently cruise down the highway
Tech savvy
Your all-new Tacoma comes standard with a ton of options including Bluetooth and a USB input for the audio system. You can choose a model with so much more including navigation, hands-free entry, rear view camera, real-time traffic, and a power sunroof. Your can select your new Tacoma with all the features you could ever want!
Toyota reliability
The 2016 Toyota Tacoma comes backed by a 3-year, 36,000-mile new vehicle warranty and a 5-year, 60,000-mile powertrain warranty for your peace of mind. Toyota vehicles of all kinds are known as the most reliable vehicles on the road today and the Tacoma is no exception.
If you're in the market for a new truck, check out the all-new 2016 Toyota Tacoma at Toyota of West County. Our friendly, knowledgeable staff are here to fit you with the right vehicle for your specific needs. Call us or drop in today!